Doctors With X-Ray Vision: Augmented Reality for Spine Surgery
Colorado Springs Orthopaedic Group is now offering a new standard of care in surgery, giving our doctors x-ray vision during surgery! Dr. Roger Sung, MD and his Physician Assistant, Kelsey Chrane with Colorado Springs Orthopaedic Group, are now offering spine surgery with the Augmedics xvision Spine System, a groundbreaking augmented reality (AR) guidance system that allows surgeons to "see-through" a patient's anatomy as if they have "x-ray vision."
We Are Proud To Announce XVS Image Guiding System for Spine Surgery
Colorado Springs Orthopaedic Group introduces xvision™ Spine system (or XVS) as our newest technology equipped with an image guiding system for spine surgery. xvision™ equipped with this groundbreaking technology, allows for better accuracy and efficiency within the operating room.
Dr. Roger Sung is the first to use xvision™ in Colorado for surgery.
Kelsey Chrane is the first PA and the first woman in the world to utilize this technology.
Colorado Springs Orthopaedic Group is the 4th practice in the nation to offer this technology.
As we continue to invest in innovative surgical technologies and techniques, providing our patients with the best there is in healthcare, please contact us at (719) 632-7669 to learn more about the xvision™ Augmented Reality Spine System and to schedule your personal consultation today.
X-ray Vision Achieved with New Cutting-Edge Technology
xvision™ Spine system is a cutting-edge technology that allows our surgeons to 'see-through' a patient's body as if they have X-ray vision. The surgeon can focus directly on the patient and not have to look away to a digital screen. This allows the surgeon to place implants with greater precision for the best minimally invasive spine procedure outcomes possible.
The Future of Surgery
At Colorado Springs Orthopaedic Group, we constantly invest in the latest orthopaedic techniques and technology. We feel the XVS technology from Augmedics is the future of surgery. XVS is designed to give our surgeons better control and visualization resulting in more efficient, less invasive, and safer surgeries.
"Moving here to Colorado Springs, I never dreamed that I would have the opportunity to use Augmented reality and the technology that's brand new in surgery; that I would be the first woman and the first physician assistant in the world to be able to use this technology, and that we would be the first facility in Colorado to use this technology. Having the opportunity to be involved with a technology that is so new and cutting edge has been incredibly rewarding and also has been really gratifying to know that even here in Colorado Springs, I am still able to be involved in the most cutting edge technology and medicine that is available."
– Kelsey Chrane, PA-C
First Woman and First Physician Assistant in the U.S to use and offer xvision Augmented Reality.
The spine is a complex part of the body. It is an intricate structure of bones, muscles, tendons, ligaments, nerves, and discs which makes spine surgery, specifically multi-level complex surgery a more difficult and delicate procedure. Now, with the XVS augmented reality technology we can better navigate these complex procedures. The primary advantages of XVS over other image-guided systems include:
Personalized procedures
More accurate spinal implant placement
Faster
Safer
Less radiation exposure for the physician during the procedure
Benefits of X-ray Vision with Surgery
With XVS, surgeons can:
Meet 98.9% implant placement accuracy
Move small muscles aside instead of detaching them
Minimize incisions
Operate faster
Operate safer
Better align anatomy for more successful outcomes
Reduce patient recovery time
How xvision™ Augmented Reality Headsets Work
Augmedics' xvision™ Spine system is an augmented reality (AR) surgical guidance system. It is the first AR system to be utilized in spine surgeries. The surgeon can look directly at the patient and 'virtually' see the anatomy through the skin. It is as if the surgeon has 'X-ray vision.'
Here's how XVS works …
Instead of looking up or to the side at monitors displaying the patient's anatomy, the surgeon sees everything through the AR headset, allowing surgeons to maintain their focus directly on the patient. They can likewise move freely around the operating room due to the wireless system. This gives the surgeon better control and visualization, which may lead to surgeries that are easier, faster, and safer to perform.
The headset includes a transparent near-eye-display that determines the position of tools utilized in surgery. It then projects the patient's CT data in real-time onto the surgeon's retina, allowing them to look at both the patient while seeing the navigation data.
The AR Guidance System consists of several technology components:
Transparent AR display: all 3D anatomical and instrument data projects on a heads-up display. Thus, the operating field is not obstructed.
Built-in surgical tracking system: the surgeon sees accurate, real-time tool positioning.
Integrated headlight: shines a light on the focus surgery area.
Personalized headset: the headset is custom-fit for each user.
Powerful high-speed processor: eliminates data lag for instant visual tracking.
Wireless system: allows free movement about the operating room.
Our Featured Doctor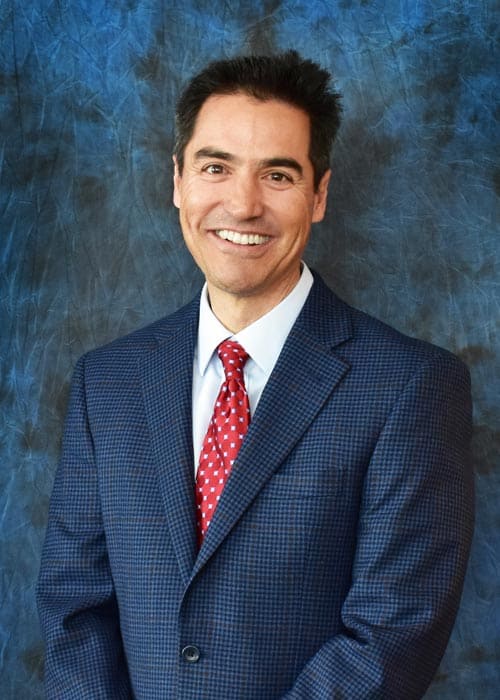 Roger D. Sung, MD
Dr. Roger Sung is a board-certified orthopaedic surgeon at Colorado Springs Orthopaedic Group. He specializes in complex spine reconstruction and minimally invasive techniques. He is also the first in Colorado Springs to use the xvision™ Spine system. This technique allows for faster, easier, and more accurate surgery.
"Augmented reality is a way to look at a patient's anatomy in three dimensions 'live' in the operating room through a headset. It's like having x-ray vision as it allows us to peek inside. We can take complicated, complex spine anatomy and simplify it to allow for better precision and accuracy in surgery. This lets us work through smaller incisions with less trauma to the tissues. Patients can have a quicker recovery and better long-term outcome."
– Dr. Roger Sung, MD, First Physician in Colorado to use and offer xvision AR.
Will My Surgery Qualify for XVS?
Not all patients are a candidate for the xvision™ as each patient's diagnosis will vary however, to learn if xvision™ is right for you, give us a call today at (719) 632-7669 to schedule an appointment with Dr. Sung.